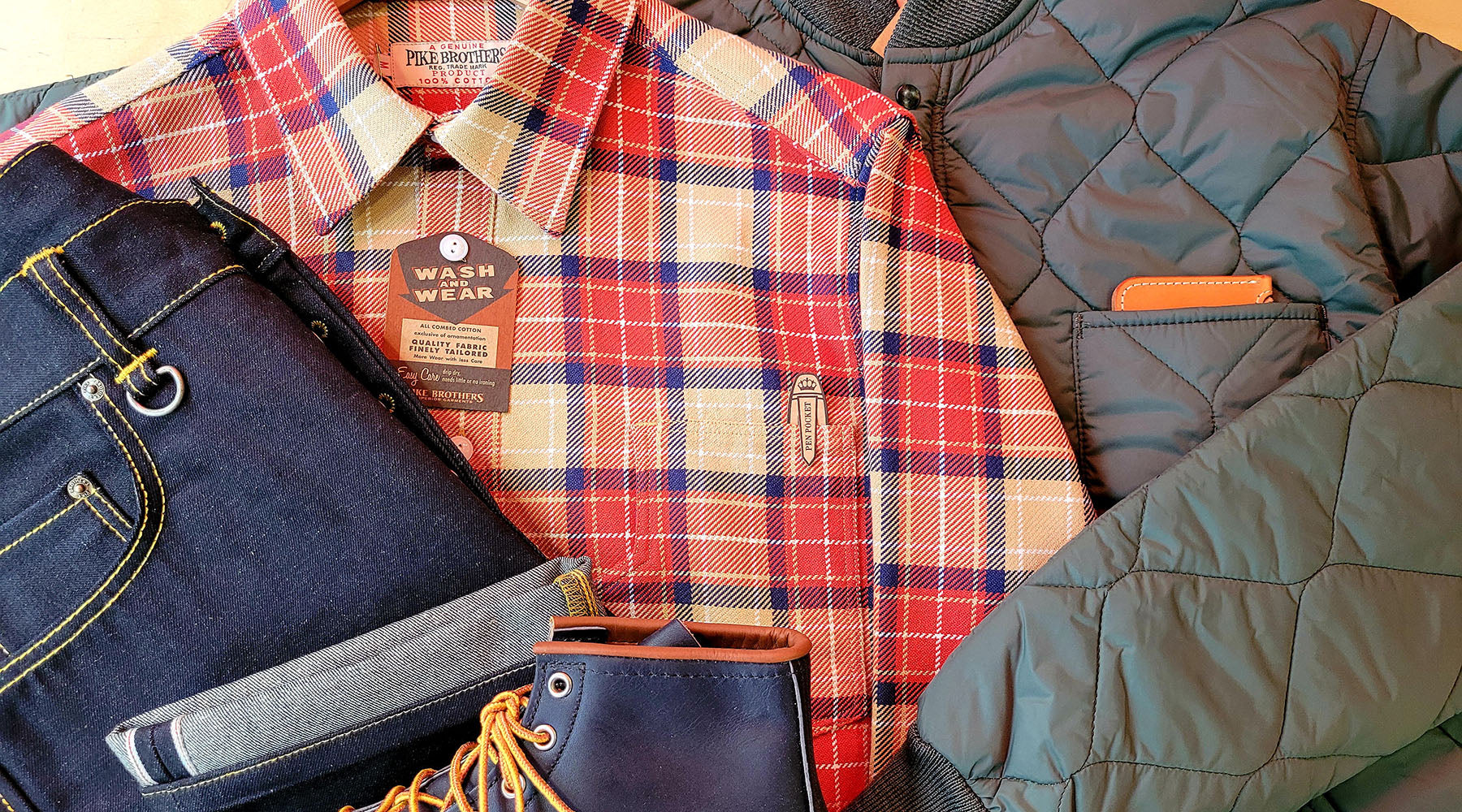 SPOTLIGHT SERIES: PIKE BROTHERS
We've just taken another delivery of Pike Brothers and would like to share with you what they're are all about - just in case you haven't heard of them before. Pike Brothers, unlike many of our other brands, aren't seasonal - it's year-round and cut to vintage patterns. Their patterns come from as early as 1905 and up-to-date for them is the mid-60's!
When Pike put a piece into production they don't only follow the vintage pattern, they match it with a cloth that's as close as they can get to how the garment was when it was originally produced. Every garment in their range is built to last, it's an investment that won't go out of fashion or moreover, it has gone out of fashion and then came back 'in' as a tried and tested classic!

Their garments archive ranges from the turn of the century workers clothing to military surplus (army, navy and airforce uniform and fatigues), vintage biker gear, hunting garb and of course, the ubiquitous Denim Jean.

One thing that keeps us returning to Pike is the quality. It's actually astounding. When you feel the durability and attention to detail, you realise that they'll outlast the purchaser. The price is astonishingly low, as price per wear means it'll probably be the cheapest gear you can buy. But even compared to other heritage brands available on the market, Pike is still mindbendingly cheap, I'm still not sure how they bring a garment in for the price they do.
Below are a few of their pieces described in a little more depth, or alternatively, head over and view the full collection here >
1947 ROAMER PANT 13OZ HEMP DENIM
We've tried Pike's Roamer Jean before and enjoy its cut, blank back pocket and slightly over-engineered construction (note the massive bartacks on the belt loops) So as well as having a large supply of their signature 15 Oz redline selvedge denim we've also taken delivery of their Hemp denim, in the same cut. This cloth seems to take the indigo dye really well, they're super dark, but I reckon with time and wear they'll become more neppy, grainy and mottled than the straight cotton version. The selvedge is also red on this pair.

1937 ROAMER SHIRT - ORONO RED

As with all their 'Roamer shirts,' there's the distinctive pocket on the left breast, which originally was a smokers pocket, for your softshell packet of fags! Ok, I think most of us have quit the Marlboros by now, but it's actually a great pocket for your sunglasses so they don't hit the ground every time you bend over (because that grates!)
I've chosen this one because the cloth is Jacket weight and maybe the only checkered shirt you'll have to ever buy again, it'd probably stop a bullet at distance.

1937 ROAMER SHIRT - BLUE CHAMBRAY
1965 CWU JACKET - SAGE GREEN
CWU jacket. (Cold weather Uniform) developed in the 40s and 50s for the American airforce to replaced the bulky flying leather/sheepskins jackets as a lightweight alternative. These seem to have become ubiquitous in modern utility wear, as a great way to add warmth at no cost to weight. This one is from a 1965 pattern that has the currently fashionable diamond/onion stitch line. Great for wearing on its own or under a lightweight cotton chore coat.
1927 HENLEY SHIRT
The Classic Henley tee. There's been a massive return to Henley of late, whether it's because we can adjust its neck depending on the conditions of the day. After all, it looks more interesting under a shirt than a tee or if we just want something different as a base layer. Regardless we have Pike's in short and long sleeve.
It's hard to pick out five favourites from the range as each item has a story and unique origin, I've also purposefully not chosen any of the jackets here, as they have to be seen in the flesh to appreciate just how great they are.
Click here to view the collection, or pop by the store and check it out yourselves.